Dinner Menu
Please note: Our menu changes daily to reflect local, seasonal ingredients and Chef's daily specials. The menus available on our website may not be 100% accurate. Please call Rocky's or visit our Facebook page if you have questions about today's menu.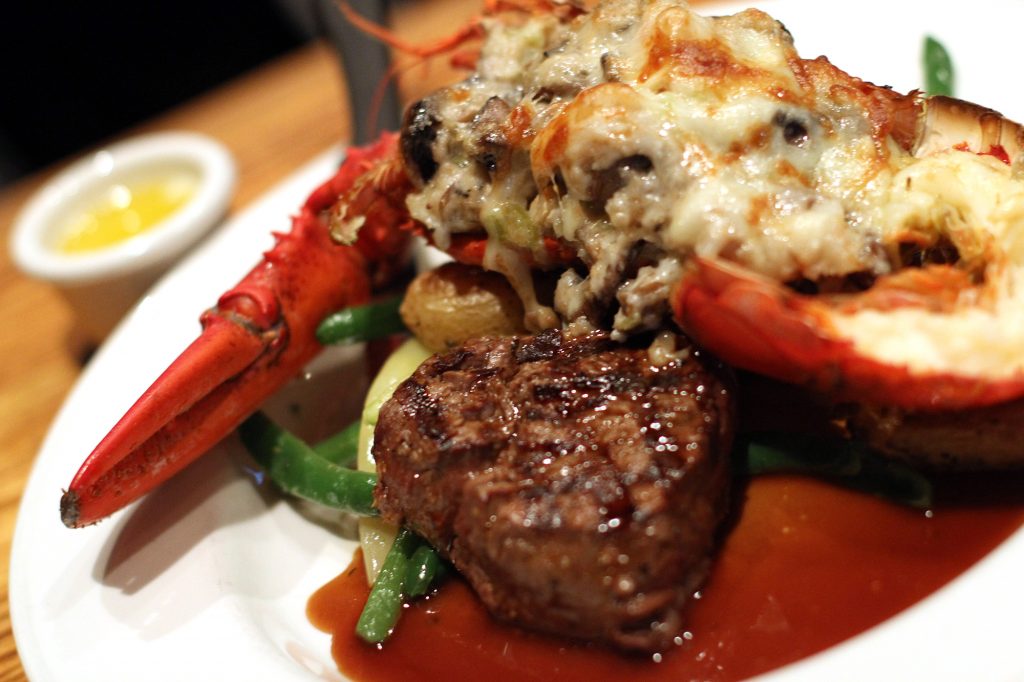 Appetizers
Salmon Pâté
Pickled Eggs, Sesame Crackers
Spinach Artichoke Dip   
Crispy Tortilla Chips, Boursin Cheese, Pico de Gallo
Shrimp Cocktail  
Cucumber Salsa, Horseradish, Cocktail Sauce
Fried Calamari    
Roasted Garlic, Capers,  Banana Pepper Rings, Provençal Sauce
House Smoked Salmon   
Herb Cheese, Capers, Chopped Egg, Flatbread Crackers
Salad & Soups
Classic Wedge of Iceberg Salad 
Crock Of French Onion    
Black Bean   
(Contains Pork)
Gazpacho 
Dinner Salads
Pecan Encrusted Chicken Salad   
Raspberry Vinaigrette, Mandarin Oranges, Onions, Bleu Cheese, Cranberries
*Blackened Tenderloin Tip Salad   
(Spicy) Wedge of Iceberg, Bacon, Onions, Croutons, Grape Tomatoes, Bleu Cheese Dressing
Grilled Gulf Shrimp Salad   
Apple Maple Vinaigrette, Apples, Bleu Cheese Crumbles, Red Onion, Cashews, Dried Cherries
House Salad 
Mixed Greens, Dried Cranberries, Bleu Cheese, Walnuts, Red Onions, Raspberry Maple Vinaigrette
Caesar Salad 
Romaine Lettuce, Parmesan, House Made Dressing, Croutons
*Spinach Salmon Salad   
Honey Mustard Vinaigrette, Bleu Cheese, Grapefruit, Dried Cherries, Red Onions, Almonds
Main Courses
All Main Courses Include Choice of One: Black Bean Soup, Soup Du Jour, or Cole Slaw.  If you would like to Substitute House Salad with Raspberry Maple Vinaigrette Dressing, add $3.50
Seafood
Fried Frog Legs   
Casino Butter, Rice Pilaf, Fresh Vegetables
Broiled Great Lakes Whitefish   
Rice Pilaf, Fresh Vegetables
Potato Whitefish  
Fresh Vegetables, Lemon Cream Sauce
*Chipotle Honey Glazed Salmon   
Pineapple Salsa, Basmati Rice, Asparagus
Great Lakes Walleye Saute  
Brown Butter Vinaigrette, Wilted Spinach, Toasted Almonds, Shiitake Mushrooms, Basmati Rice
Beef, Pork, and Fowl
Pork Medallions Sauté  
Apple Cider Cream, Dried Cherries, Blue Cheese, Smoked Ham, Rice Pilaf, Braised Red Cabbage
Chicken Saute   
Lemon Caper Butter Sauce, Artichokes, Mushrooms, Fresh Vegetables, Rice Pilaf
*6 oz. Filet Mignon   
Red Wine Sauce, Crispy Onions, Whipped Potatoes, Fresh Vegetables
*Grilled 12 oz. New York Strip Steak  
Parmesan French Fries, Fresh Vegetables, Red Wine Sauce, Casino Butter
*Grilled Saratoga Ribeye Steak 
Balsamic Roasted Cippolini Onions & Mushrooms, Green Beans, Red Wine Sauce
Pasta
Pesto Pan Roast 
Sea Scallops, Gulf Shrimp, Artichokes, Sundried Tomatoes, Fettucine Pasta
Portobello Ravioli   
Grilled Chicken, Tomato Cream, Spinach, Parmesan
Creole Shrimp  
Linguine, Tomatoes, Spinach, Garlic, White Wine, Parmesan
Fruit De Mer   
Sea Scallops, Mussels, Atlantic Salmon, Shrimp, Fettuccine, White Wine, Garlic, Tomato Provencal Sauce
*Michigan Food Law Section 6149 – Advises consuming raw of undercooked shellfish, poultry, seafood, meats or eggs may increase your risk of food borne illness, especially if you have certain medical conditions.